Exclusive to oobidoobidoo!
A sneak peek into the Ukipedia 2016 BreXmas page.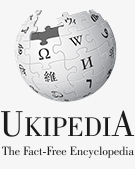 Main page
Contents
BreXmas

Current events
1956 Events

Ukipedia store
Interaction
Help
About Ukipedia
Community portal
Recent changes
Contact page
Tools
What links here
Related changes
Upload file
Special pages
Permanent link
Page information
Ukidata team
How to have a white Christmas
Decorating your home
The first thing you'll need is a traditional Christmas tree, the scent of pine reminding you of how Baby Jesus' spiritual home is really northern Europe (specifically, a modest island just off the coast).
However, we would not recommend the Norway model, as although it will give you access to your presents, you will have to pay for it.
Gifts
What could be more fun for the kids than a glove puppet? A Gove puppet!
Christmas dinner
Obviously we will all be feasting on a non-EU turkey, parsnips slow-roasted to a slightly rubbery consistency (in order to distinguish them from the potatoes) and miniature cabbages (not Brussels sprouts!).
Suggested tipple: Watney's Red Barrel (or a sherry for the ladies).
Family Entertainment
Following Her Majesty the Queen's speech on the soon-to-be-privatised BBC, perhaps a rousing rendition of Jingo Bells should get things off to a fine start. Family fun would be had with a spirited game of Kerplunk! (goes the economy), or maybe Trivial Pursuit (Little England edition).
Christmas Films
A Country for Old Men – In which our fifty two year-old hero travels the country putting people in their place (and speaking for them), while drinking beer and smoking fags.
It's a Wonderful Life – A small bank defeats a larger bank and everybody wins. Especially the owners of the smaller bank. Every time a bell rings it's a Ukip campaigner at your door.
ELF – A small British oil company buys a big French oil company. The people win!
White Christmas – 'Nuff said.
Trolls – An army of dedicated Kippers take on the 'Remoaners' and hurl perfectly targeted, crafted and researched corrections at them.
Abbreviation
UKIP
Leader
Paul Nut-Job
Deputy Leader
Saruman the Purple
Chairman
Pizza the Hutt
Deputy Chairman
The Url of White
Suzanne (not the Leonard Cohen one) Evans
Founder
Alan Sked
(after an idea by A. Hitler)
Founded
3 September 1993
Preceded by
Anti-Human League
Headquarters
Humdrum House, Newton Abbot, Mordor
Youth wing
Young Twats
Membership
(Nov 2016)
32,757
Membership
(Nov 1956)
Everyone!
Ideology
Hard Euroscepticism
Right-wing populism
Economic liberalism
British nationalism
All-round cuntishness
Political position
Right-wing-tip
European affiliation
Alliance for Fucking Up Europe
International affiliation
None!
European Parliament group
Europe of Freedom and Direct Debit
Colours
Red, White, Blue
House of Commons

1 / 650

That is, one-six-hundred-and-fiftieth

House of Lords

3 / 809
That is, one two-hundred-and-seventieth

European Parliament
National Assembly for Wales
Northern Ireland Assembly
London Assembly
Local government

492 / 20,690
That is, less than one-fortieth

Scottish Parliament
Police and Crime Commissioners
Directly-elected Mayors
And finally…
My brother and sister live in Hope, but it's just a little place and we can't all move there. But consider this: a year ago most of us either couldn't or wouldn't believe that seventeen million Brits could be so wilfully stupid… followed by  a lot more Americans.
And now, most of us are convinced that Brexit is inevitable and that Trump will be the next president of the United States.
We can't live in Hope, but we can always do more. And then… you never know.
A very Merry Christmas and a Preposterous New Year to you all.
Oh, and we spent the postage for Christmas cards on this instead.